a day ago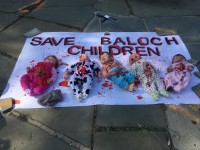 QUETTA: Pakistani security forces have abducted several members of a family including women and children from Raghai area of Besima Balochistan.
According to details, the families have been abducted one month ago but due to the continuous siege of the area, information about Pakistani forces atrocities never come to the light of media.
However, now it has emerged that Pakistan forces abducted several members of a family from Bambkan region of Raghai.
The victims have been named as 80-year-old Ali Mohammad son of Chutta, Farida wife of Ismael, Aaziz wife of Ismael, 8-year-old Mujeeb son of Ismael, 3-year-old Sadullah son of Ismael, 1-year-old Sharif son of Ismael, 5-year-old Haseena daughter of Ismael, Pari Gul wife of Abdul Malik along with four children who between 12 month – 8 years, Naaz Gul wife of Iqbal along with two children and Maryam wife of Mohammad along with four children.
Last year also Pakistani forces have abducted several Baloch women and children from Mashay whose whereabouts remain unknown.
In a separate incident, Pakistani forces abducted two brothers from Hub Chowki Balochistan on Friday (26 January 2018).
The victims have been named as Chakar son of Murad and Gull Dad son of Murad. The brothers are residents of Pedarak's Jambak Gwarkob area in district Kech Balochistan.
On Friday, Pakistani forces also abducted another Baloch youth from Mondi area of Gwadar Balochistan.
According to details, the Pakistani forces raided a house in Gwadar and harassed women and children during the unwarranted raid.
At least one man named Aziz son of Ashraf has been abducted during this raid. The victim Aziz is a resident of Kabeel area of Dasht Balochistan.