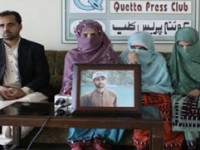 QUETTA:  A Baloch sister has appealed the human rights organisations and media to help her raise voice for her brother safe release. Mahrang Baloch, a daughter of late Ghaffar Lagov Baloch, held a press conference at Quetta Press Club on Thursday about her brother Nasir Ahmad Baloch's abduction at the hand of Pakistani security forces.
She said her 20-year-old brother Nasir Ahmad son of Abdul Ghaffar [Langove Baloch] is a student of FSc in Government Science College Quetta and the Pakistani security forces arrested him on 15 December 2017 in her presence 'before her eyes'. 'The forces severely tortured him before taking him away.'
'We thought he will be released after interrogation or at least will be presented to a court of law if he has done anything wrong. So we waited for him but we have not heard anything about him since his abduction and nobody has informed us about his whereabouts and well being.
'My mother and I went to register the FIR (First Information Report) at the police station on 21 and 22 December but the Police has refused to lodge our FIR and cooperate with us. After this we submitted a petition a [Balochistan] High Court,' Mahran Baloch said.
She said they have also contacted all institutions including the Human Rights Commission of Pakistan but it has been 27 Days that her brother has still not been released and the entire family is suffering from mental trauma.
She appealed the media to become her voice and tell the civil society, judiciary and Pakistan's rulers about her pain and her family's difficulties. She said, "My brother was the only guardian of my family." She hoped that the media, civil society and the judiciary will play their due role to recover her brother.
She said, "We five sisters have only one brother – Nasir Ahmad – and we are his dependents. After his abduction, we are in distress and pain. We expect human loving people to help us. We are peaceful citizens and our brother has no affiliation with any political party. If there are any charges and allegation against him, he should be presented to a court of law and we will happily accept the decision of the court."
Pakistani forces abducted Ghaffar Baloch the father of Mahran Baloch in 2009 and killed him in custody in 2011. Following is a video interview with Mahrang about her father's ordeal: