about 8 hours ago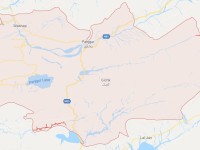 QUETTA:  Panic has gripped many localities in district Panjgur Balochistan when Pakistan army carried out fresh military offensives and destroyed several houses on Sunday.
According to details, Pakistan army, FC, Police and their local agents surrounded Gramkaan and Washbod areas of Panjgur Balochistan and started house-to-house search operations.  The offensive continued for many hours during which the Pakistan forces blocked Quetta road and encircled the houses.
Pakistani forces have set several houses on fire after looting them off valuables and many houses have also reportedly been bulldozed.
Many people have also been abducted during Panjgur offensives but due to complete blockade of the region complete details and identity of the victims could not be ascertained so far.
A local source on condition of anonymity told Balochwarna News that there are a huge tension and panic among the residents. The military has asked people of besieged areas to vacate their houses.
Meanwhile, in separate offensives, Pakistan forces abducted at least two Baloch from Baalgtar and Kilkaor areas of district Kech Balochistan.
The victims have been named as Ameen son of Mohammad and Arif son of Murad Mohammad.
Pakistan forces harassed women and children their offensives in Saeed Abad and Meer Abad area of Baalagtar raids.